Sunday, October 29 - Wednesday, November 1, 2006
Post-Conference Tour: The Wild, Wild East
View the entire conference agenda or return to Vermont coverage home.
Photos by Dale Willman
| | |
| --- | --- |
| | |
| We're going where?? | The view from the Placid Hotel. |
| | |
| --- | --- |
| | |
| Adirondack Museum | SEJ member Bruce Ritchie dries his notes. |
| | |
| --- | --- |
| | |
| Tour speaker Bill Weber. | The tour-goers. |
Photos by Charlotte Kidd
Post conference, about 20 intrepid SEJ members joined Dale Willman for a 4-day tour of the southeastern corner of the Adirondack State Park. In afternoon drizzle on day one, we walked a slippery, glistening leafed Split Rock Wildway trail to a breathtaking Lake Champlain vista. SEJers and spouses listened as members of The Adirondack Council explained this Champlain Valley corridor's importance for habitat and wildlife preservation — from lakeside wild forest westward to high peaks of Joy Range Wilderness.
| | |
| --- | --- |
| | |
| View of Upper Saranac Lake from deck of my suite at the Wawbeek (wawbeek is Ojibwa for "big rock" referring to boulders the glaciers heaved into the Adirondack area). | Nancy Bazilchuk and Brian Houseal at Split Rock. |
| | |
| --- | --- |
| | |
| At The Adirondack Museum's Living With Wilderness exhibit, SEJers Denise ??? (help us out here!), Candace Page, and conference chair Nancy Bazilchuk donned hats from the past reflecting human history in these mountains from the 1500s through the 20th century. | On Upper Saranac Lake at the Wawbeek Hotel shore, Renee Ebersole (Senior Editor, Audubon magazine) and Lynn Davis (Public Affairs Director, Virginia Polytechnic Institute) begin a paddle that includes details about addressing pollution and expensive, hand-removal of the invasive Eurasian Watermilfoil. |
Photos by Bruce Ritchie
| | |
| --- | --- |
| | |
| Adam Glenn, independent consultant with A2g Media, and Rene Ebersole, senior editor with Audubon Magazine, hike in the Split Rock Wild Forest on Oct. 29 during the first day of the SEJ post-conference tour of NY's Adirondack Park. | Glenn poses with Julie Grant, reporter and producer (center) at WKSU-FM Ohio, and Anne Bolen, assistant editor of Smithsonian (right), during a cruise aboard the W. W. Durant. In the background is the snowy shoreline of Raquette Lake. |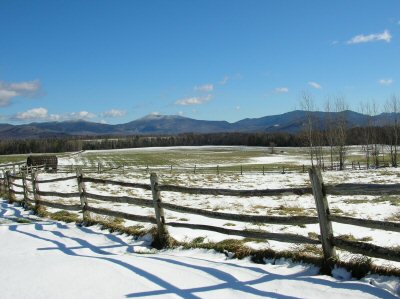 A view of the Adirondack Mountains is framed by melting snow and a fenceline at Heaven Hill Farm on the second day of the SEJ post-conference tour. Area residents said that as much as 20 inches of snow fell in some parts of the Adirondack Park during the first night of the tour.
---
The Society of Environmental Journalists
P.O. Box 2492 Jenkintown, PA 19046
Telephone: (215) 884-8174 Fax: (215) 884-8175
sej@sej.org
© 1994 Society of Environmental Journalists
The SEJ logo is a registered trademark ® of the Society of Environmental Journalists. Neither the logo nor anything else from the sej.org domain may be reproduced without written consent of the Society of Environmental Journalists.