Page Menu
Sunday, October 29
Morning Session 1: Looking Forward, Looking Back
Morning Session 2: Nature Writers: A Breakfast Café
Post-Conference Tour: The Wild, Wild East

Saturday, October 28
Breakfast Session: Covering the Big Stories: Up a Creek, Without a News Hook
Concurrent Sessions 3: THE FUTURE: Global Warming: Reporting on What's Going to Be Changing in Your Backyard
Concurrent Sessions 4: THE FUTURE: The Future of Farming: Can Traditional Crop and Livestock Farming Be Sustained?
Lunch Plenary: Government Secrecy: What We Don't Know Can't...
Photos: CC4, THE BORDER: Invasives: Global Trade Brings Local Costs, Mini-Tour: Vermont's Green Fuels of the Future, and Slow Food Evening at Shelburne Farms and Miscellanea

Friday, October 27:
Breakfast Session: The Biggest Story, the Biggest Challenge: Capturing Climate Change
Opening Plenary: Corporate Green
Concurrent Sessions 1: THE NATION: Conflicted Science: History and Present Problems
Evening Plenary: And Now a Word from Our Critics...

Thursday, October 26
A Tale of Two Tours: From Camel's Hump to Cow Power: SEJ Tours Probe the Issues
Tour Photos: The Historic Hudson River: Cleanup Controversy at a Superfund Mega Site, Keeping a Patchwork Forest from Unraveling, Lake Champlain: Ecosystem at Risk, and Green Sneakers and Blaze Orange: Can Traditional Conservation and Environmentalism Coexist?

Wednesday, October 25
The "Real Scoop" on Vermont: Keynote Speaker Ben Cohen Mixes Cookies and Ice Cream
News and Announcements: Awards winners, Vermont Public Radio podcast, TVWeek.com pre-conference stories
Sunday, October 29, 2006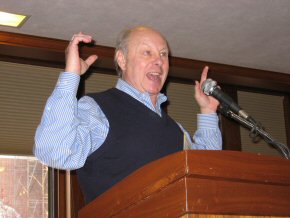 James Howard Kunstler. Photo courtesy Dale Willman.
Looking Forward, Looking Back
Sunday's program began with a different perspective than the norm for environmental journalism, which is all about the here and now. In this session, we took a look at where we've been, then got a glimpse of where we're going.
Moderated by Mark Neuzil of the University of St. Thomas, we heard from author James Howard Kunstler, and associate professor and author Kathryn Morse.

• Audio file (MP3/12.5MB)
Nature Writers: A Breakfast Café
Don Hopey of the Pittsburgh Post-Gazette moderated this session in which five of our favorite authors — Lou Bendrick, Bernd Heinrich, Verlyn Klinkenborg, Jacques Leslie and Bill McKibben — shared tidbits from their writing and talked about their favorite techniques.

• Audio file (MP3/11.6MB)
Post-Conference Tour: The Wild, Wild East
From October 29th through November 1st, attendees hiked and kayaked New York's Adirondack Park which, covering six million acres, is larger than Yellowstone, Grand Canyon, Yosemite and the Smoky Mountains National Parks combined. But not all this land is protected. Instead, the park is a 50/50 blend of private inholdings mixed in with forest lands that were declared "Forever Wild" by an 1894 constitutional amendment.
Dale Willman, Executive Editor of Field Notes Productions, led the tour which included almost a score of speakers from a diverse cross-section of groups. SEJ 2006 Conference Chair Nancy Bazilchuk prepared a podcast (MP3/3.8MB) about the post-conference trip.

• Photographs
Saturday, October 28, 2006
Breakfast Session: Covering the Big Stories: Up a Creek, Without a News Hook
This session examined how reporters can cover big-picture issues like sustainability, consumption, climate change or loss of biodiversity without a news hook or a sympathetic editor.
Listen as moderator Andrew Revkin of The New York Times speaks with the Houston Chronicle's Dina Cappiello and Geneva Overholser (the Curtis B. Hurley Chair in Public Affairs Reporting, University of Missouri School of Journalism, Washington bureau) about how to turn generic issues like sustainability and loss of biodiversity into readable, local journalism that might help you sell these stories to your editors.

• Audio file (MP3/10.6MB)
Concurrent Sessions 3: THE FUTURE: Global Warming: Reporting on What's Going to Be Changing in Your Backyard
Just like the weather, the impact of climate change varies from place to place. Not every place will feel the dramatic effects of an Alaska, but every place will experience the change in everything from weather to plants and animals to geography. Whether you report on cities or rural areas, agriculture or wildlife, this panel will help you inform your readers and listeners about the latest science on what to expect from global warming in your region.
Jim Detjen, Knight Chair of Environmental Reporting at Michigan State University, moderated this panel of speakers including National Wildlife Federation's Doug Inkley, Climate Science Watch's Rick Piltz, and NASA's Cynthia Rosenzweig.

• Audio file (MP3/14MB)
Concurrent Sessions 4: THE FUTURE: The Future of Farming: Can Traditional Crop and Livestock Farming Be Sustained?
In this session, three farmers (a Canadian and two Americans) look at how agricultural producers can overcome systemically low farm incomes while remaining environmentally sustainable.
Vermont Farm Bureau's Jackie Folsom, University of Vermont's Fred Magdoff, and Keystone Agricultural Producers' Ian Wishart join moderator Ron Friesen of The Manitoba Co-operator to discuss the options.

• Audio file (MP3/11.6MB)
Lunch Plenary: An Appeal to Cover Government Secrecy
• Audio recordings (courtesy Scientific American): Part I (WMA/13.4MB). Part II (WMA/13.4MB).
During his impassioned comments over lunch with several hundred journalists Saturday, Sen. Patrick Leahy (D-VT) credited reporters with unearthing information otherwise unavailable to Congress.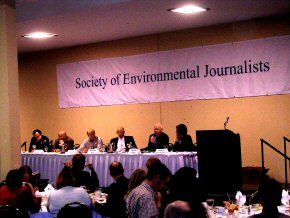 Sen. Patrick Leahy addresses the SEJ Plenary lunch Saturday on government secrecy.
"We were told Jack Abramoff never went to the White House until (the press) got the Secret Service logs," Leahy said, offering stories on Guantanamo Bay and Halliburton reconstruction contracts as additional examples of press enlightening legislature.
Leahy addressed government secrecy as one of seven panelists invited to speak to more than 800 people gathered at the 16th annual conference of the Society of Environmental Journalists held in Burlington, Vt. The session, "Government Secrecy: What We Don't Know Can't...," took place October 28, 2006.
Sen. Kit Bond (R-MO) was invited, but did not attend.
Leahy and Sen. John Cornyn (R-TX) are co-sponsoring Senate Bill 394, the Open Government Act, designed to strengthen the Freedom of Information Act.
The legislation has failed to move forward in the Senate.
Vince Patton, an environmental reporter at KGW-TV in Portland, OR, asked what or who was holding up the bill's progress. The journalists assembled in the audience represented all 50 states and Patton, who also serves on the SEJ First Amendment Task Force, encouraged them to confront their local senators with the question, "Did you put a hold on this legislation?"
Patton's fellow task force member James Bruggers of the Louisville Courier-Journal echoed the sentiment: "Cover secrecy and open government issues."
If editors aren't responding to the need for open government stories, panel moderator Geneva Overholser of the Missouri School of Journalism's Washington Bureau said reporters "have an elegant case to make based on the information you can no longer get that people need to have."
Panel member Joseph A. Davis, a D.C.-based freelance writer and editor heading SEJ's WatchDog Project, later added, "The biggest challenge is to make it matter to your reader; and it does."
Richard Huff, former co-director of the U.S. Department of Justice Office of Information and Privacy, also challenged journalists.
He said the U.S. Environmental Protection Agency received 12,000 FOIA requests in the past year, a decrease from the 14,000 in the year prior, and suggested the decline indicated journalists were neglecting their watchdog duties.
Huff encouraged journalists to make frequent and sophisticated FOIA requests. Should a request be unsatisfactorily filled, Huff told reporters to appeal to the Department of Justice, which, he said, provided more information to around 20 percent of those requesting such appeals. In some cases the additional information is negligible; in other instances 150 more pages is released, he said.
"If all else fails, the EPA can easily be helped along with a lawsuit," Huff said.
More than one journalist in the audience was in the midst of a frustrating FOIA experience.
The New Orleans Time-Picayune's Mark Schleifstein is still waiting for information on the EPA's response to reports of hazardous spills during days of Hurricane Katrina flooding.
And after the Big Dig tunnel collapsed and killed a woman this summer, federal officials denied the Boston Globe's FOIA request, citing homeland security issues.
"What are the terrorists going to do? The tunnel already collapsed," said the Globe's Gideon Gil.
Justifying government unaccountability in rhetoric based on the pressure of war and terrorism is so common that "it's farcical, except it's hurting the country," Leahy said.
Huff, Davis and Jonathan Adler, a law professor at Case Western Reserve University, all noted that government secrecy issues did not start with the Bush administration.
"It's not something that Dick Cheney and Karl Rove invented," Adler said, noting the Clinton administration had tried to invoke "a secret service privilege."
"Other administrations have taken action (to withhold information)," he said. "Not to defend (Bush), but it's all unfortunate and all of you do a public service when you expose it."
Story by Rebecca Townsend, University of Missouri
Breakfast Session: The Biggest Story, the Biggest Challenge: Capturing Climate Change
Climate Change — the biggest story of our lives — is perhaps the most difficult to tell. The science is complex and the challenges daunting, so how do you capture a story that demands to be told but eludes effective telling? Listen as our panel discusses how they bring the overwhelming story of climate change down to earth.
The Seattle Post-Intelligencer's Robert McClure moderates panelists Bill Blakemore of ABC News, Elizabeth Kolbert of The New Yorker, Rick Kupchella of KARE-TV Minneapolis, and Mark Woodward of Bangor Daily News.

• Audio file (MP3/12.9MB)
| | |
| --- | --- |
| | |
| The panel (l-r): Blakemore, Kupchella, McClure, Kolbert and Woodward. | Both photos by Peter Thomson. |
Opening Plenary Addresses Whether Big Business Is Going Green
• Link to video (1 hr/13 min; posted by Knight Center for Environmental Journalism, Michigan State University)
General Mills cereals packaged with organic branding. McDonald's sandwiches wrapped in recyclable containers. Nike public relations campaigns denouncing sweat shops.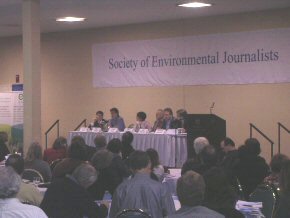 Panel members discuss corporate sustainability and environmental credibility at the opening plenary Friday morning at the SEJ conference in Burlington, Vt. Click photo to enlarge.
To bold declarations that everyone, including the U.S. corporate sector, can be environmentalists, reporter Tim Wheeler of The Baltimore Sun asked Friday: Is this the real thing? Are companies being more responsible, or just responding to customer demands?
Wheeler moderated the opening plenary on "Corporate Green" at the 16th annual conference of the Society of Environmental Journalists. The conference runs through Sunday in Burlington, Vt.
The panel included Andrew Ruben, Wal-Mart corporate strategy and sustainability vice president. Ruben defended the company's idealistic wish list, which doesn't have a timeline, to operate on 100 percent renewable energy with zero waste and sell sustainable products.
"It's absolutely ambitious," Ruben said. But using renewable resources makes the company more efficient, he said. He cited Wal-Mart's 7,200-truck fleet with auxiliary power units and the company's decision to stock more high-efficiency light bulbs at eye-level on shelves — "so the customer is aware of the option."
"Yes, it's about business, but it is also about efficiency," he said. And savings for customers who can put $3 billion back in their pockets, he added.
Market awareness and demand are driving DuPont's environmental campaign, said Linda Fisher, vice president and chief sustainability officer.
"Our science and innovation will help create customers and suppliers who are more efficient," Fisher said. "We've shifted our focus to 'how can we do less harm?'"
DuPont has a goal of using 10 percent renewable sources by 2010. Other chemical industry officials have asked the company to back away from the idea, she said.
One of the goal's obstacles is that DuPont uses only cost-efficient renewable sources and will not pay more in costs, she said.
Reaching DuPont's sustainable goals will not solve all the world's problems, Fisher said. "I'm not saying it is enough," she said. "But we will know much more in five more years."
Segway inventor Dean Kamen, the panel's self-described "little guy," said the "stuff" he is building involves water and electric generation systems for the more than one billion people without clean water and energy sources.
Kamen is founder and president of DEKA Research & Development Corp. He has spent just under $54 million on this project to create what he calls a "box" that uses external combustion, cow manure and other fuel sources to generate power. Two are in use in Bangladesh.
Jeff Seabright, Coca-Cola vice president for environment and water, addressed clean water concerns. Infectious diseases get much attention, but "people don't get galvanized about this [water]," he said.
"It's a resource under great stress," he said. The company's 1,000 plants face a global fresh water crisis, he said. The company uses 2.6 liters of water in washing and manufacturing to make a liter of its product.
Seabright noted Coca-Cola's collaborative efforts with nongovernmental organizations and government agencies to provide clean water. From 2000 to 2005, the company's total volume market increased by 35 percent, but the company's overall use of water decreased by one percent, he said.
Reporting on the environment requires "realism," said Bill McKibben, author of "The End of Nature" and other books.
"There's no reason to do things inefficiently when you can do them efficiently," McKibben said. And companies changing their practices in small, environmentally directed ways will not change the business model of profit-making.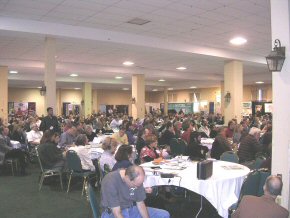 Click photo to enlarge.
About Coca-Cola's Dasani water, he said: "It's hard to imagine a product that is sustainable and then putting water in bottles and shipping them around the world."
Seabright later responded that Dasani is not shipped all over the world and bottled water shouldn't be an alternative to tap water.
McKibben said journalists should ask themselves how they are framing the questions they ask about environmental issues.
The key questions aren't about whether one company is more conscious than another in sustainable practices, he said. They're about "what kind of world can we build that will actually work?"
Story by Traci Angel, University of Missouri
Concurrent Sessions 1: THE NATION: Conflicted Science: History and Present Problems
While money and politics have always meddled with science, by most accounts, independent science today faces increasing scrutiny from corporations and special interests. This panel explored how conflicts of interest, and PR schemes, like "sound science," have increasingly jeopardized an independent and objective science community.
Paul Thacker, of Inside Higher Ed, moderated panelists Stan Glantz (University of California at San Francisco), David Rosner (Columbia University), and Frederick vom Saal (University of Missouri-Columbia).

• Audio file (MP3/11.9MB)
Evening Plenary: "And Now a Word from Our Critics..."
Our evening plenary addressed the questions: Are environmental journalists getting the climate change story wrong? Are we overly receptive to spin? Are we playing up the fear factor and skirting inconvenient uncertainties? Marc Morano, a staffer for Senator James Inhofe (R-OK), thinks liberal groups are funding scientists to exaggerate the dangers of climate change. An audience of ~250 packed the room to listen to his critique of SEJ members' reporting, the response from some of his targets, and the ensuing questions and comments from audience members — including NASA's James Hansen.
Moderator Christy George, Oregon Public Broadcasting producer, introduced panelists Bill Blakemore, senior correspondent with ABC News; Dan Fagin, associate professor of journalism and associate director of the Science, Health and Environmental Reporting Program (SHERP) at New York University; Senator Inhofe's representative Marc Morano, who is director of communications for the Senate Environment and Public Works Committee; and Andrew Revkin, environment reporter for The New York Times.
Listen to our audio recording (MP3/67.9MB) of this exciting 70-minute session, which begins with Mr. Morano's opening comments.
• Video (55 min; posted by Competitive Enterprise Institute)
| | | |
| --- | --- | --- |
| | | |
| The panel (l-r): Blakemore, Fagin, Morano, and Revkin. | NY Times' Andrew Revkin uses a chart to demonstrate the "he said/she said" of reporting on climate change. | NASA's James Hansen, during the audience Q&A, responds to Mr. Morano's comments. Photo by Dale Willman. |
From Camel's Hump to Cow Power: SEJ Tours Probe the Issues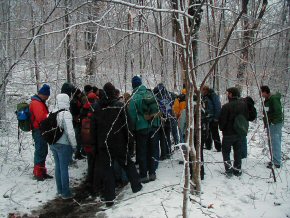 "Camel's Hump" tour-goers gather in the snowy forest to begin their trek. Photo by Madeline Bodin. Click photo to enlarge. More photos.
As two busloads of journalists wound up the green valley below Camel's Hump Mountain in Vermont early Thursday, clear streams ran down from the peaks above. The journalists cruised past the quaint wooden homes of Huntington Center. Past brown dairy cows grazing in lush green pastures. Past a network of blue tubes strung throughout a sugarbush all set to catch the maple sap when it begins to flow.
Camel's Hump Road began a marked ascent in elevation. Soon a layer of snow dusted the remaining leaves. By the time the buses reached the trailhead, snow blanketed the forest.
This scene greeted those aboard the tour, "The Acid Test: Camel's Hump." The tour was one of nine offered Thursday at the 16th annual conference of the Society of Environmental Journalists. The conference runs through Sunday.
A Staggering Find Recalled
At the base of the Burroughs Trail, Hubert Vogelmann, a pioneer of acid rain research, stood waiting to introduce the journalists to his "model mountain."
When he relocated to Vermont from the Midwest in the mid-60s, Vogelmann and his students built a detailed database of plant ecology based on the study of a 2,000-foot transect traversing the mountain's three distinct life zones — a deciduous forest at the lowest elevation, then a spruce and fir forest, topped off with an alpine zone.
In the 1970s, about a decade after Vogelmann's study of the mountain's trees, soils and weather patterns, a student came to him with startling news: "Something's wrong. The trees are dying at the top of the mountain."
"It was staggering what was happening," Vogelmann said. "In 10 years, 50 percent of the spruce trees had died. It was devastating."
Disinclined to join the choir of voices blaming acid rain for wreaking environmental havoc, Vogelmann devoted himself to scientific forensics. Soon he conceded. "More and more circumstantial evidence pointed to acid rain," he said.
Tour speaker Erick Titrud, an assistant attorney general in Vermont's Environmental Protection Unit, stood in the rising snow listening to Vogelmann's comments. When his turn came to speak he said Title IV of the Clean Air Act, the acid rain program, "was undoubtedly adopted as a result of the work done here on Camel's Hump."
Titrud's contemporary efforts to gain environmental improvement through legal remedies rest heavily on the New Source Review Resources Initiative, a feature of the Clean Air Act's Title I requiring power plants to secure preconstruction permits for facility upgrades. The legislation licenses Titrud to question unpermitted upgrades, which, he said, have occurred on a "massive, industry-wide scale."
His largest suit is aimed at the American Electrical Power Co., the largest power generator in the U.S., he said. The judge has stayed his ruling on the proceedings, which concluded in July 2005, until the Supreme Court makes its ruling on a similar case against Duke Power.
Prevailing winds carry the airborne byproducts of Midwestern coal power generation to Vermont's Green Mountains. Vermonters find this a particularly egregious insult because their state burns wood and fuel oil for power, not coal.
When Jim Kellogg, an aquatic biologist with the Vermont Department of Environmental Conservation, began work on establishing pollution limits to remedy impaired water bodies, he soon discovered that Vermont's problems could not be solved in-state. Any effectively written total maximum daily load rules would require legislation effecting change across state borders, he concluded.
Other scientists stationed along the trail emphasized the complexities of conceptualizing pollution's ecological consequences.
Herpetologist Jim Andrews lamented a myopic mass mindset focused solely on body counts. What does pollution kill? Where are the dead bodies?
"What about the synergistic impacts?" he asked.
Plant physiologist Paul Schaberg used a pile of fresh powder probably 8 inches deep as a blackboard to illustrate how calcium around tree cell membranes acts as a stress indicator for plants, allowing the organisms to adjust their physiology to imminent threats. Schaberg discovered acid rain leached the calcium from Red Spruce, robbing the trees of their natural defense mechanisms and leaving them vulnerable to cold sensitivity. In one particularly severe year, 60 percent of sampled red spruce trees lost first-year foliage from freezing.
Many of the day's speakers challenged journalists to educate policymakers and "anybody who will listen" about the science of environmental destruction. But Kellogg also offered one of Vogelmann's insights for rumination: "Acid rain isn't more complicated than you think, it's more complicated than you can think."
Conservation: Vermont Style
Kristen Fountain of Valley News and Richmond, Vt.-based freelance writer and photographer George Wuerthner led the tour "Conservation Past, Present and Future." The tour traveled to Woodstock to reflect on conservation efforts at Marsh-Billings-Rockefeller National Historic Park.
The idea for the park began when Vermont native Frederick Billings returned home after finding his fortune as an attorney in California during the Gold Rush. Billings wanted to build a sustainable farm and planted hundreds of trees in his mission to maintain and preserve the land.
His wife and daughters continued this legacy after his death. Billings' granddaughter Mary French married Laurence Rockefeller, and the couple helped establish the park with the goal of environmental stewardship.
Billings' objectives helped to catalyze the rebirth of Vermont forests, which were 80 to 90 percent cleared for farming and raising sheep by the mid-1800s.
Now, "the oldest (forested) areas are the steepest and the highest," said Wuerthner, whose work focuses on conservation and national parks. Some of the state's largest trees were salvaged if they were in the yards of homes during the clearing.
Vermont parks were originally private land, unlike Western parks such as Yellowstone and Yosemite, which were federally held, he said.
One way to bridge private and public conservation efforts is by establishing national heritage areas. This trend focuses on using social networks to get local people involved to tackle broader restoration efforts such as maintaining ecosystems and considering watersheds, said Daniel Laven, management assistant at the Historic Park. Congress designates heritage areas and the government provides staff and technical service.
Tom Slayton's family has lived in Vermont for seven generations. He is Vermont Life's editor and spends his free time keeping an eye out for yellow-belly flycatchers and other birds while finishing his book on Henry David Thoreau's walking travels.
Slayton said Vermont residents' dedication to allowing reforestation was revolutionary.
"The American environmental movement began on this land," he said. Met with skepticism by some on the tour, he added that the statement was "true enough."
Cow Power and New Farmers
The eyes of more than 40 journalists on the southbound bus out of Burlington early Thursday focused on the patchwork of farm fields to the west. Beyond the fields along Vermont Rt. 7, Lake Champlain shimmered at the foot of the brown-blue humps of the Adirondack Mountains.
"This land you are seeing is a good example of the techniques we're applying to protect the agricultural landscape," said Kate Lampton, executive director of the Champlain Valley Greenbelt Alliance.
Lampton was one of several experts who showed examples of those techniques and described the changing landscape of Vermont agriculture to SEJ members signed up for the tour, "From Cow Power to Urban Farms: Sustainable Agriculture in the 21st Century."
The tour was led by John Dillon of Vermont Public Radio and Anson Tebbetts of WCAX-TV in Burlington.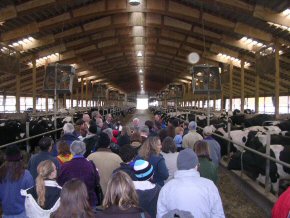 "Cow Power" tour participants attend what was probably their first news conference in a Holstein barn. Officials from Green Mountain College and Central Vermont Public Service announced the college would buy electricity produced from cow manure. Photo by Bill Allen. Click photo to enlarge. More photos.

First stop was Blue Spruce Farm, an 8,000-gallon-a-day dairy farm whose owners run electrical generators fueled by methane gas created from manure and other farm wastes. At a news conference in a barn filled with scores of Holsteins, officials from Central Vermont Public Service and Green Mountain College announced the college would buy 1.2 million kilowatt-hours of electricity a year produced through the utility's "Cow Power" program.

Other stops on the tour included the smaller Dancing Cow Farm, where owners Steve and Karen Getz run a few dozen grass-fed milk cows to make three varieties of organic cheese. They bought this farm three years ago with the help of the Vermont Land Trust, which works with farmers and others to protect landscape for farming, forestry and related purposes through conservation easements.

"Saving the best agricultural land (from development) is a priority," said Allen Karnatz, co-director of the Land Trust's Champlain Valley office.

The tour's final stop featured the Intervale, an incubator of small-scale farms on 700 acres of floodplain, including a former city dump, in Burlington. Kit Perkins, the Intervale's executive director, said the center's mission is to support agriculture programs that promote social, economic and environmental sustainability.

Jennifer and Spencer Blackwell's dream to become farmers began five years ago when they planted mainly beans and grain on land leased at the Intervale. They credited the center's technical assistance and equipment with helping them get ready to go off on their own.

The Blackwell's "wild notion" of becoming Vermont farmers culminated two days before the SEJ visit with the purchase of their own farm, also aided by the Vermont Land Trust.

Said Spencer Blackwell, "There's a lot of work ahead. It's hard to even think about it."
Story by Rebecca Townsend, Traci Angel and Bill Allen, University of Missouri
Keynote Speaker Ben Cohen Mixes Cookies and Ice Cream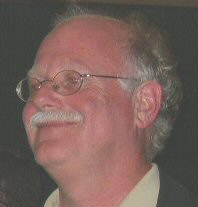 Photo of Ben Cohen by Beth Parke. Click to enlarge.
Ben Cohen has used an ice cream company to question the fundamental tenants of American capitalism. Now he's using Oreo Cookies to encourage more equitable distribution of this country's tax dollars.
The co-founder of Ben & Jerry's Homemade Ice Cream mixed talk of desserts and defense spending in a speech Wednesday on the opening night of the 16th annual conference of the Society of Environmental Journalists in Burlington, Vt. (See "The "Real Scoop" on Vermont".)
Addressing a group of journalists who file Freedom of Information Act requests for breakfast and spend afternoons analyzing environmental records for evidence of waste, fraud and corruption, Cohen unveiled a super-sized bar graph illustrating the seven major sectors receiving funds from the federal discretionary spending budget.
Then he busted out the Oreos — huge 4-inch Oreos — each one representing $10 billion.
First he stacked up 46 Oreos along the Pentagon's bar. Then he lined up four Oreos along the bar labeled K-12 education and another four for Homeland Security. World hunger got one Oreo, while energy independence and job training each got less than one.
By redistributing just a few of these Oreos, Cohen said, all the nation's schools could be repaired and rebuilt, the world's starving people could be fed and oil dependence could be reduced by 50 percent.
Where did he get these figures? How well were they vetted? How long will it take the journalists to pick up the cookie-laden gauntlet Cohen threw down at their feet and investigate his claims?
The wheels were turning in the brains of the audience of anointed watchdogs. An undercurrent murmur of healthy skepticism mixed with comments of support and appreciation rolled through the room.
Pens Cohen distributed promoted SensiblePriorities.org and contained a self-winding scroll listing the facts underpinning his presentation. The U.S. federal budget for fiscal year 2007 and a group titled armscontrol.org were listed as the data sources.
Cohen argued that if the U.S. government was forced to act like a business and respond to social and economic signals in real time, it would have long ago abandoned a Cold War-era approach to defense preparation.
In an illustration of disproportionate weapons distribution, Cohen chose to move away from the Oreos and into the realm of BBs. He asked his audience to close its eyes. Then he dropped a BB into a metal container. Each BB represented 15 nuclear bombs equivalent to the bomb dropped on Hiroshima. Then he dropped in six BBs — enough to level Russia, he said. Then he began pouring a seemingly endless stream of BBs — 10,000 in all — to represent the number of nukes in the American arsenal.
In essence, Cohen reiterated a question that has motivated him and Jerry Greenfield since they first questioned the basis of America's corporate model: How does the financial bottom line stack up to the social and moral obligations an active and caring member of a community must bear?
As Cohen stressed the need for balance between profitability and social responsibility, the thought occurred to Sacramento Bee reporter Chris Bowman that Cohen's comments applied as much to the newspaper business as it did to ice cream.
Speaking to journalists about a community-conscious bottom line is essentially "preaching to the choir," Bowman said. "Ben Cohen's time would be better spent speaking before newspaper publishers and broadcast producers."
Story by Rebecca Townsend, University of Missouri
| | |
| --- | --- |
| | |
| L-R: Jim Detjen, Ben Cohen, Madison Hall, Hannah Northey | L-R: SEJ President Perry Beeman, UVM's Cheryl Dorschner, UVM President Daniel Mark Fogel, SEJ board members Carolyn Whetzel and Mark Schleifstein |
| | |
| --- | --- |
| | |
| Knight Center Grad Students and Staff, Michigan State U (L-R): Katie, Amal, Andrew, Danielle, Jessica, Matt, Alicia | Madison Hall and Vermont Governor James Douglas |
Above photos courtesy Madison Hall, Knight Center for Environmental Journalism, Michigan State University
---
The Society of Environmental Journalists
P.O. Box 2492 Jenkintown, PA 19046
Telephone: (215) 884-8174 Fax: (215) 884-8175
sej@sej.org
© 1994 Society of Environmental Journalists
The SEJ logo is a registered trademark ® of the Society of Environmental Journalists. Neither the logo nor anything else from the sej.org domain may be reproduced without written consent of the Society of Environmental Journalists.